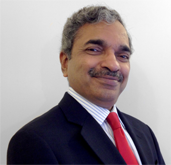 I am a Clinician, Cardiac Surgeon and entrepreneur with more than 35 years' experience working in the United Kingdom, Ireland, New Zealand and India. In addition, I am a Fellow of the Royal College of Surgeons and Royal Society of Medicine with an MBA from The Business School, Imperial College, London. I am also a Council Member for the Technology in Medicine section at the RSM.
I am the Subject Matter Expert to the Special Interest Group (SIG) in Digital Health at the TSB/ KTN and an External Assessor at the Small Business Research Initiative (SBRI) in healthcare. In addition, I am a member of the Central Programme Committee for the Digital Health Assembly - International Open Innovation Conference, Cardiff 2015.
At the KTN, I am the Lead in Digital Health and as part of the Wales Festival of Innovation chaired a one-day event -
The Connected Human
- and subsequently ran a seminar at the TSB VentureFest entitled
Bionic Socrates - The Argument for a Hybrid Clinician
which explored the man-machine partnership and its value to UK PLC.
Last but not least, I am the MD of Innovative Solutions in Informatics - a start-up designed to promote adaptations and implementation of technology in healthcare and higher education and am also a Founder-Director at Tabsys Ltd.
I am also part of the Cumberland Initiative and a Senior Research Fellow at the Faculty of Health Informatics, Computer Sciences and Mathematics at Brunel University.